Introduction
Living in the UAE is fascinating; there is freedom, security and unlimited opportunities for savouring life, travelling and growing financially. But it is crucial to plan your financial life before you splash out the tax-free salary.
Recent research has found that financial wellbeing — feeling secure about not only the state of your current situation, but how well you've planned for the future — holds the key to your overall wellbeing. And a person's financial security hugely affects life just as job satisfaction, relationship stability, and physical health.
So what are you waiting for – dive right in. You can do all the online research and still be clueless, as this space is filled with so many different opinions. Well, finding financial advisor in Dubai might not be too difficult, but keep in mind to hire someone highly qualified, registered with the authorities, and backed by local experience and international know-how.
We are all familiar with the saying – a stitch in time saves nine – so be cautious when you go about finding financial advice in Dubai, the rules around financial advising in Dubai are not entirely similar to everywhere else, as are the investments and banking options.
This article will take you through a step-by-step guide to finding financial advice in Dubai, UAE, as well as help you make the critical decision.
If you want to skip reading this and fast-track your financial planning, I will be happy to discuss the best practices over the phone or a meeting.
What to look for in your financial advisor?
A great financial advisor will not only help you make money on your investments but also be a life-coach, who will take you closer to your goals. They will steer you away from future financial trouble, and save money for retirement, as well as in all major decisions throughout the lifetime.
So when deciding to work with a potential financial adviser, make sure you ask all the right questions. They should always work in your best interest and be completely transparent about their fees and service terms.
Three questions to ask in the first meeting
Never hesitate to ask all the questions you want, after all, you will be trusting your financial planner with your hard-earned money. But first comes these three questions – ask them in the first meeting itself.
This post is a part of client education effort, where I am trying to answer some commonly asked questions about financial advice in Dubai. Also, put a perspective on how good financial management can be done, for high-income expats, international executive, and high networth individuals.
You can always reach me with questions or for financial advice and avail a free initial session, and I promise to help.
The Basics: Financial planning and wealth management
Financial success and wealth often result from the right financial planning and advice. Simply speaking, unless you have inherited a fortune or are a high net worth individual or family, you need a financial plan to put your investments in the right places to create wealth, which in turn can be managed well by right financial advice.
On the other hand, successful wealth management begins with a comprehensive plan derived from a high networth individual's financial status, asset distribution, and future goals.
Financial Planner vs Advisor
A financial planner and advisor are not any different in what they do. They understand your financial goals analyse your financial situation and risk profile to come up with a long term plan for your investments and income distribution.
What makes the difference is the clients' requirement, you may be an expat in thirties requiring just a plan for your savings, then your financial advisor becomes a planner.
Meanwhile, you can use a financial planner's service over a long period of time, in fact, for multiple generations, and he becomes your financial advisor. In any case, a financial advisor is a person knowledgeable about financial matters and global market dynamics, and he/she provides advice in a way that promotes the economic wellbeing of clients.
Now you are thinking who's a wealth manager?
A wealth manager once again is a financial advisor, who specifically serves high-networth and ultra-high-networth individuals or families to manage their wealth. A wealth manager offers a comprehensive set of services including accounting and tax services, retirement planning, estate planning and more. The service is holistic and involves all parts of a person's financial life.
Financial planning for expats in Dubai
Most people move to live and work abroad to find an economic driving force.
The chances are that you are an expat, just like the many international executives residing in Dubai. And when you are working in a foreign country like the UAE, you are extremely time-restricted when it comes to managing finances and getting your savings in order. It would be best if you had a plan for investments and banking in your home country and here.
As an expat you should understand that you need a financial plan for both the time you are here in Dubai and for the future should you return to live in your country. But before you take professional financial help, understand the plans proposed to you. Good financial advisors will never offer products with high commissions and long lock-in periods, as it is impractical for someone who might not stay in the UAE for 20 to 30 years.
There are real estate brokers and salespeople calling themselves financial advisors, so the question is how can you choose the right? Best is to have a checklist with your needs and what you want in your advisor.
Don't know how to make one? Here's the one I suggest, it details everything you should look for to ensure your financial advisor has your best interests in mind.
Who needs a financial advisor
You need professional financial advice if you are not quite sure of managing investments on your own and need an opinion from experts. There is no age or financial milestone that you should be attaining to afford a financial advisor, but there are several reasons to look for a financial planner.
Do I need a financial advisor?
If this question has popped up in your mind, then below might answer it,
You are a high-salaried expat executive
Even though you might know your way around financial markets, it can become overwhelming to manage your investments with the job you hold, and professional help can be sought to put goals into a plan of action.
You are a high-net-worth individual
Having multiple investments, businesses and offshore bank accounts calls for a professional who can manage everything on your behalf and in your interest.
You are retiring soon
Maximising retirement income requires planning, there are many options other than insurance and pension fund that retirement planning can include.
You manage your own investments
Your investment portfolio can be healthy enough, but are you sure you are not missing any opportunities in the market? If not, then, a financial advisor can provide an unbiased third-party evaluation.
You have children
You might not be earning enough when your child goes to college, saving for your child's education in a systematic way is imperative.
You inherited money
It can be challenging to manage assets and money you never had before, a wealth manager can advise you on investments and banking options to distribute it in a beneficial manner.
You have a financial advisor
Having a financial advisor who does not fulfil your financial goals might be the fitting reason to look for a better advisor.
You are building wealth
If you're still years from retirement, a good financial plan can add thousands to your retirement accounts.
Financial Planning: The Process
Financial planning presents clients with a framework to make smart decisions in regards to their life and money, where each decision affects other areas of their personal finance. Financial planning is all about exploring aspirations, future lifestyle, and career wishes.
A financial plan addresses a number of important questions like:
What is it you really want to do?
When do you want to do it?
How much will it cost?
Financial planning won't make you rich instantaneously. Instead, it will help you make changes in your life and financial investments so that over a period of time, you can achieve your goals.
Map your journey
It is vital to look back and assess your financial growth with your advisor. Having a plan is just the start, compare expected and achieved results. Financial planning shouldn't be regarded as a one-off experience, it involves a continuous process of fine-tuning and development for people who want to optimise their financial wellbeing throughout their lifetime.
Financial planning is an on-going process, it does not just make sure you have an income after retirement, but covers every part of your financial life from building wealth, protecting it for the next generation, and planning how it is distributed after you. This includes insurance, tax planning, legacy planning and much more. A good plan should be able to forecast, if not precisely, how much you can spend every month even after retirement.
There are three different stages once you decide to plan your finances – first, you establish life goals. Secondly, you prioritise your financial objectives, and finally, you select a number of financial instruments that enable you to live the life that realises these financial objectives. And financial advisor can educate, guide and recommend the right kind of savings or investments plan in this journey.
The opportunities and challenges you experience are unique to your financial status. Every financial plan is, therefore, as unique as a person's requirement.
Your financial planner will do cash flow forecasting, which includes timing and amount of cash inflows and outflows, which is an essential part of money management for expat living in a foreign country.
Below is a simple representation of different phases of financial planning.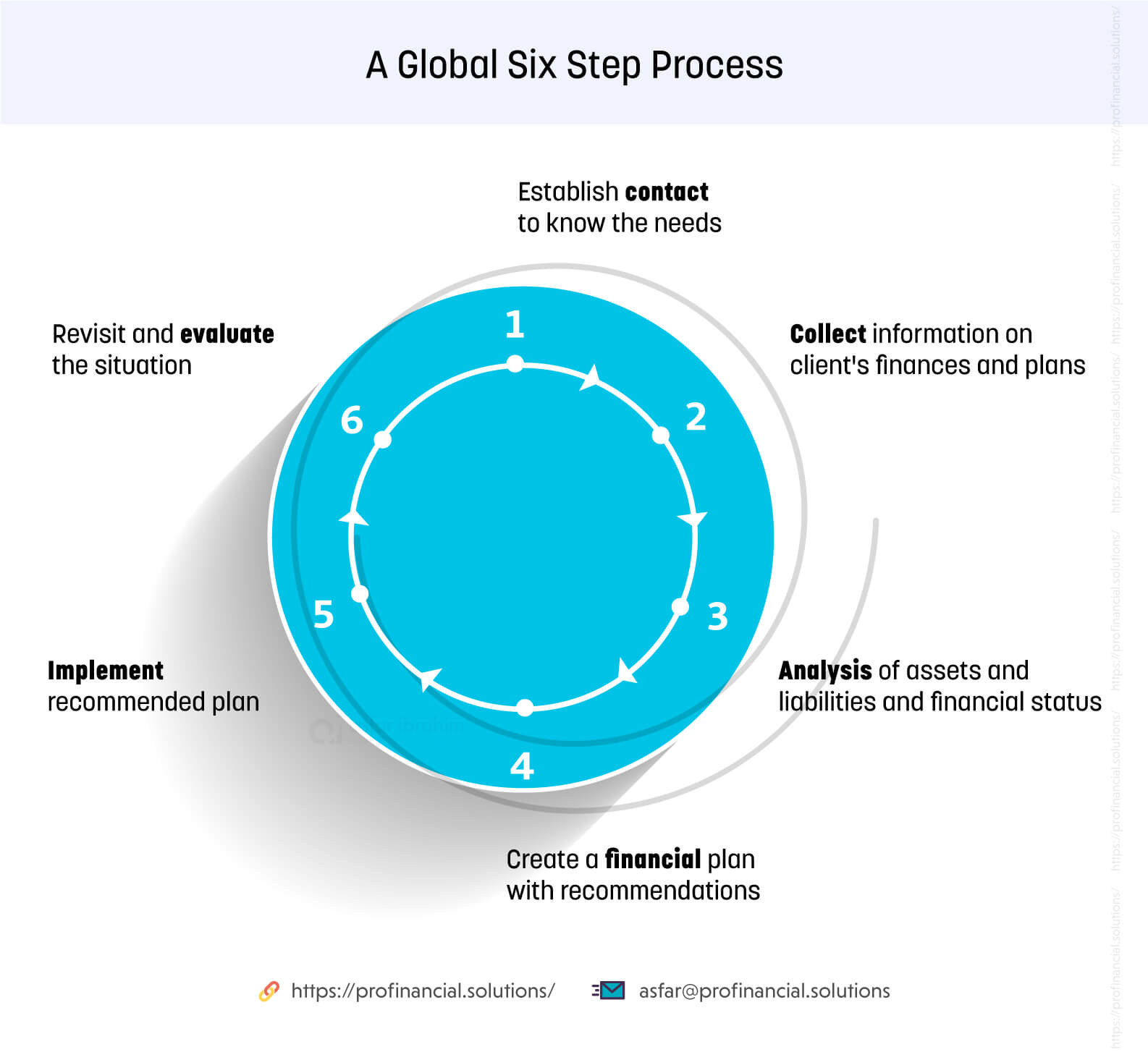 The Global Six Step Process in financial planning
Why do expats need financial advice in Dubai?
In our lives, we have found that People are Long on Life and Short on Cash and they sacrifice Health for Wealth, then try and use the same wealth to buy back health, when they are out of Income Producing Opportunity.
Financial planner obviously puts a timed plan for your short, medium, or long-term financial plan. And for expats living in Dubai, it has much more importance, as their employment years are usually numbered, unlike high-networth individuals in the UAE.
The income and expenditure ratio of an average expat usually leaves very few amounts as savings, over 30% (your income for around 9 workdays) is spent on rent, 20% (your income for around 6 workdays)on school, another 40% (your income for around 12 workdays) spent on groceries, bills and other expenses, leaving a mere 10% (your income for around 4 workdays) as a balance for savings.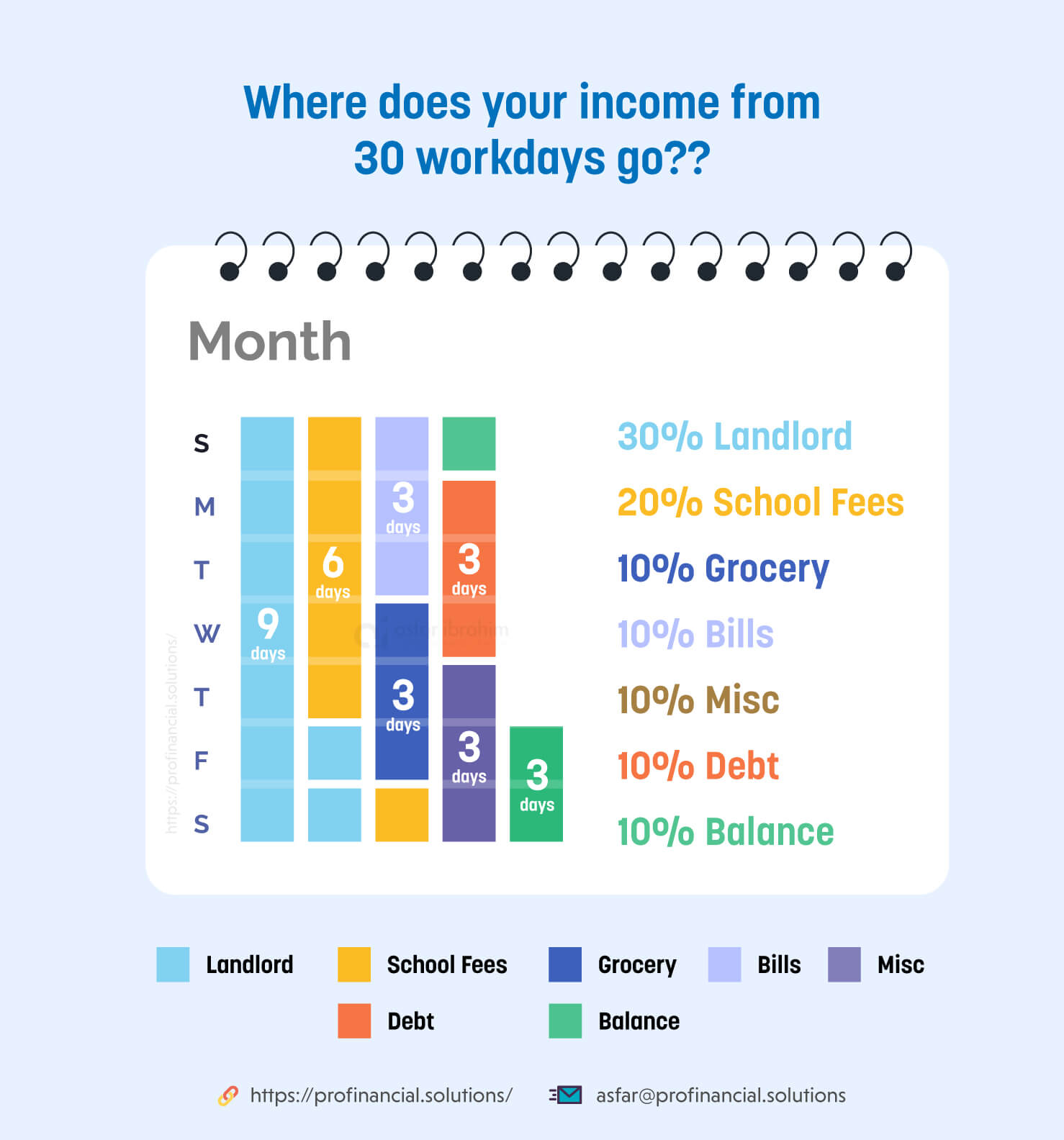 Where does your income from 30 workdays go?
Bringing you out of above expenditure cycle is what your financial advisor should be focusing on primarily, depending on the stage of life, financial advice will give you the most reliable chance to enjoy higher capital growth.
A comprehensive financial advisory covers a lot more than banking and cash-flow planning. Here are some more reasons for hiring a registered financial advisor in the UAE
Manage income
Many rich men are rich because they live below their means so that they can invest for growth. The equation is simple a financial planner can plan your expenditures for both your earning years and retirement. It can save you from debt and have surplus cash each month to save and invest in long-term
Wealth Accumulation
Be it systematic savings or investments, with a budget created by a financial advisor; you will hopefully create wealth by investing what you save. Thus improving your financial wellbeing in the long-term.
Investing in assets
A financial advisor will guide you to acquire healthy assets that do not become a burden. You might think buying a house is great, but it comes with liabilities such as – mortgage, taxes, and maintenance. A financial advisor will help you to determine the real value of assets.
Family protection
Your family's well being often has more importance in your financial planning, which includes their on-going and long-term financial security. An essential part of the plan consists of factoring insurance – be it health, life or critical illness, or setting aside money for your children's education, or getting them married.
Saving for emergencies
Saving for an unexpected event is done by many, however, once you have used up your rainy-day-fund then? Useful financial advice builds up on your savings to create more assets, so you are not left empty.
On-going advice
Professional and on-going relations with your financial advisor can aid you in achieving your goals.
Your complete financial planning in UAE
A person's life can be summarised in three key phases Learning (until the age of 25) Earning (25-60) and Yearning (75+). If you are an international professional, the earning period might further shrink, and complete financial plan for you would help you achieve all below life goals in time, and still provide a better retirement period than just receiving a pension.
Several key areas should be covered in your financial plan: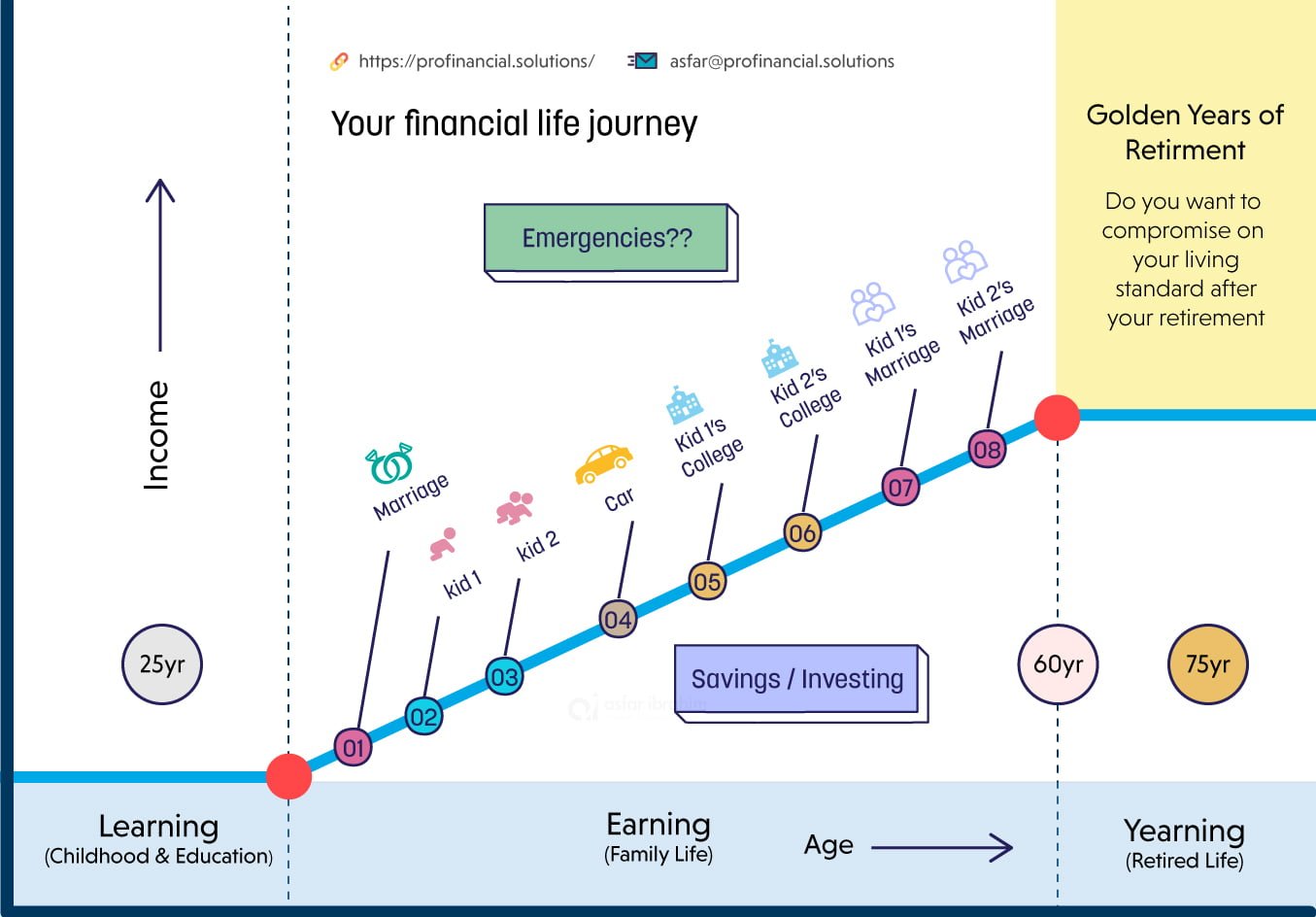 Your financial life journey
Savings plan or cash-flow management
Having a cash-flow plan will allow you to make informed spending and savings decisions. The plan will consider your current income, savings, assets, and liabilities to predict future cash-flow. The savings plan may include retirement, child's education and an emergency fund. A professional financial advisor will be able to pinpoint shortcomings in your financial profile.
Investment Plan
Investment planning should serve your financial goals and objectives. A professional advisor will help you in creating an investment portfolio that matches your income and financial standing.
Insurance for you and the family
Protecting your wealth and family's wellbeing is as important as building wealth. With most of the countries in the region, choosing insurance policies can get confusing. Financial advice in Dubai should include insurance options for your business (like keyman insurance), your family and your assets.
Retirement Plan
Building your retirement nest is an on-going process throughout your working years. The complexity and time required to put together an effective retirement plan can be tedious.
Legacy Plan
The succession laws in Dubai are complicated, and your assets might end up with court for weeks to months if you do not have a will in place. As an expat, you should know that in Dubai, the distribution of wealth after a person's death is carried under Shariah law and your family might not have any say in the process. A professional financial advisor can help you put together a will and plan for distributing your assets for today, tomorrow and your future
Offshore banking
Keeping your money outside home country and in a country that you do not reside, means tax savings and financial security, an additional benefit is that if you move countries again, you won't have to move your money.
Finding a regulated financial advisor in UAE
Would you use the services of an unlicensed doctor or lawyer? No, then why listen to a colleague or a relative when it comes to your investments. A regulated firm or financial advisor is registered with the International Chartered Institute or local government organisations. They are enabled with systems and resources that are adequate for looking after clients, which means they will protect your interests.
Also regulated financial advisors are liable to put your interest first and strictly governed by rules to do so. In the UAE, financial advisors and organisations are subject to licensing by the Securities & Commodities Authority and Insurance Authority, while most of them are registered with DIFC in Dubai.
Activities allowed under financial advisor license in UAE include:
Investment Consultation
Financial Statements and Performance Analysis
Feasibility Studies
Market Research, Analysis, Price Trends and Forecasts
Investment Portfolio Modelling
Consulting on Securities, Commodities and also Related Contracts
Financial Advisory Services
Financial Planning
When you are looking for a financial adviser in Dubai, make sure they have international certification.
If you're seeking regulated financial advice in Dubai, and you would like to use the service of an independent advisor, then look for a chartered financial planner.
The international marketplace is filled with unqualified financial advisors. Qualifications matter and you should always make sure your financial advisor is internationally qualified. Regulated financial planners have well documented, comprehensive and prompt customer handling procedures, and are answerable to regulatory authorities, which ensures fair treatment.
Your checklist for choosing an advisor
Trust
You need to be comfortable to share your financial matters with your advisor, if you there is any doubt or second thoughts while talking to a financial adviser in Dubai, that's an indicator of mistrust.
Transparency
Transparency is of utmost importance as your advisor becomes the custodian of your hard-earned money. You should be able to understand how much you are charged and for what services.
Many clients have been fooled by un-regulated advisors, who try to convince that investing can only be done through a platform they suggest, while there are multiple low-cost offshore platforms. For e.g., Interactive Brokers, Internaxx, Saxo Bank and Swissquote. So beware and ask questions.
Professional Qualification
Ensure your financial advisor is a chartered professional with suitable qualifications. Ask about their qualifications and check credentials.
Choose a Fiduciary
Ask if your financial advisor is a fiduciary or not. Fiduciaries will charge you transparent fees instead of commissions from the providers. Whatever qualification or designation your financial adviser in Dubai has, make sure they act as fiduciary.
Holistic Services
Does your financial advisor has access to other additional services like banks, lenders, and funds that you might need?
Time
Is your advisor setting aside enough time to meet you, brief you and advise you even without you initiating a request, then you are in good hands.
Independence
Make sure your financial advisor is an independent practitioner and not restricted to a limited number of products or providers.
Testimonials
If your financial advisor refrains from sharing references or testimonials from satisfied clients, then you know they are not right for you.
Open communication
If your financial advisor is not available on the phone, and emails when you need them, and does not correspond in a professional manner, then you know why you should not be working with them. Open communication is of utmost importance here.
Local Registration
Regulated financial advisors are most likely to be registered locally as the UAE requires it. Check if your financial advisor is locally registered or not. There are a number of licencing institutes including UAE Insurance Authority and Securities and Commodities Authority. If your advisor is from a company registered under DIFC, you can find the company details here – difc.ae/public-register
What are platforms?
A platform is an online service that allows you to purchase and manage a wide range of currencies and investments, on one dedicated online account. It provides a simple way of gaining access to thousands of investment products often at a discounted cost. They allow you to hold your investments in a secure location and view them in one place, with up-to-date valuations and a birds-eye of your whole portfolio. Eg. Swissquote, Interactive Brokers, Saxo Capital Markets and Internaxx.
Paying for financial advice in Dubai
If your financial advisor is bringing you investment plans with extended lock-in periods and high commissions, then it's time to run away. Unfortunately, the majority of financial advisors in Dubai are commission-based, and clients too feel it is acceptable since they are not taking money out of their pocket to pay for the advice. A good financial advisor will charge you a fee for the service he/she provides.
There is no one who cannot benefit from financial planning. However, you can gain more value if you have at least a million or two dollars to invest and a comprehensive portfolio. But there are enough options for everyone.
Fee vs Commission
Which sort of advisor is better is a question everybody faces when they are working with a professional financial planner or advisor. A fee-based advisor may seem expensive, but they are registered investment advisors, as they are required to be to practice on fee-based service. Whereas, a commission-based advisor is like a broker and may not be registered as an advisor, despite their high-qualifications.
Fee-only advisors are fiduciaries, which means they are liable to put their clients' interest over any broker, dealer or other institution they do business with.
A fee-compensated advisor may charge a flat retainer or an hourly rate for investment advice. If he actively buys and sells investments for your account, his fee is likely to be a percentage for assets under management. The fee is also the sole source of compensation they receive. In contrast, a commission-based advisor earns from products he/she sells or the accounts opened.
Hence, there is a chance that they would suggest insurance packages and mutual funds, more than you require because the more accounts they open, the more they get paid. Very few clients are aware of these facts, and the products a commission-based advisor chooses can be pretty subjective.
What is a fiduciary
Fiduciary advisors hold a relationship of trust with their clients and abide by fiduciary duty. The fiduciary duty is the ethical obligation to act solely in someone else's best interest. In theory, this should minimise conflicts of interest and make a financial advisor trustable.
Fiduciaries do:
Put clients' best interests before their own.
Provide all relevant facts to clients.
Disclose any potential conflicts of interest to avoid conflicts
They always try and ensure the advice they provide is accurate and thorough.
They never use a client's assets to benefit themselves.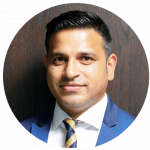 Asfar is an Independent Financial Advisor and Associate Partner with Continental Group based in Dubai, UAE with over 12 years of experience in the region. His clientele includes high networth individuals, corporations, C suite executives, business owners, and entrepreneurs in the region.
Now that you know the dos and don'ts and why you might need professional financial advice, do you want to hire an independent and regulated financial advisor?
I can help you with an all-inclusive wealth management strategy, or solely with any of the specific service, you would require, for example – pension planning, tax planning in Dubai or in your home country, opening an offshore account etc. As well as a range of services including Systematic Investment Plan , Legacy Planning, Child's Education Planning,   Business Protection, Family Protection, and Critical Illness Cover
Let's take the next step towards your financial freedom, fill in you details to book an initial free session now
Take the first step to a better financial life today. Fill out the form to request a call back if you are in Dubai or anywhere in UAE, GCC.