The market follows trends. Understand the trends, understand the market.
Changes in consumers' behaviours and the environments set the foundation of any trend and these trends, later on, drive the market. In these uncertain times, investment decisions backed by long-term trends serve the best.
Thematic investing is all about following investment themes for 2022 and searching for companies benefitting from such themes. It focuses more on investing in popular trends and as a result, reduces the effort required to select individual companies.
Benefits Of Following Investment Themes 2022
Helps to capitalize on future trends.
Understanding the trends and their impact leads to a better understanding of businesses.
A rightly identified theme can generate great returns.
Helps you create a high-powered portfolio.
Lowers diversification by narrowing down your stock research.
By discovering themes and balancing the portfolio according to the risk appetite, any investor can customize their thematic portfolio. And if you are wondering what are the top investment themes for 2022, let us help you out.
10 Key Investment Themes In 2022
Inflation Is In A Long Run
After 40 years of declining inflation and interest rates, it is going higher again. US core inflation numbers have hit decades highs, similar is the case with Germany and China. As the numbers are setting the picture, inflation will linger in the months ahead. In this rising rate environment, equities, high yield bonds, precious metal miners, and convertible bonds are some of the best investment ideas in Dubai 2022.
Dividends Are Making A Comeback
Dividend income's contribution to the total return of the S&P 500 Index averaged 41% from 1930 to 2020, according to the Hartford Funds. After dividend suspension during the pandemic by the companies, especially in Europe, dividends are making a comeback as the economy rises. To find attractive dividend growth prospects, look for companies that yielded closer to 3%.
Cryptos And Blockchain Technologies Are Making Their Way
Non-fungible tokens (NFTs) took blockchain technology mainstream in 2021. Today's web world is witnessing the beginning of cryptos and blockchain use cases. With volatility being the most prevalent factor in the next year as well, cryptocurrencies will likely be one of the most adoptive 2022 investment themes. Major banking and financial corporations are already following the trend by offering cryptos.
ESG Is Becoming More And More Important
Environmental, social, and governance investing, aka ESG, is everywhere. Sustainably invested assets under management, both institutional and retail, were increased by 42% between 2018–2020, according to a report from the Forum for Sustainable and Responsible Investment. And the ongoing energy crisis has undoubtedly highlighted the need for sustainable investments in fossil fuels. Investors are now considering a company's ESG rating an important factor.
More EVs On The Road
Shedding some more light on sustainable investments, a transportation transformation is coming our way. The electric vehicle industries are growing stronger each passing year. More and more consumers are willing to switch to a sustainable transportation model and introducing EVs with lower prices, better performance, and longer range is making the transition smoother. While Tesla has been a clear leader by surpassing a market cap of $1 trillion in 2021, there are many other companies like BYD, SAIC-GM-Wuling, Volkswagon, BMW, etc to watch out for.
The World Is Demanding Health Care Innovation
Covid-19 being a painful reminder of the need for healthcare innovations, the world and the big pharma companies are demanding innovative healthcare solutions from the Biotech industry. There was a record $254 billion in Biotech M&A activity in 2019 and it is expected to reach as high as $350 - $400 billion in 2022. Recent advancements in the genomic and proteomic analysis are leading to the launch of many new modalities of drugs nowadays including the covid-19 vaccines.
The Tech Growth Story Continues
Technological advancements are becoming a routine nowadays, there is no sector that is left untouched by the digital transformation, whether it is education or business. Revolutionary technologies, such as artificial intelligence, robotics, blockchain, cybersecurity, and 5G are expecting the most prominent transformation in the upcoming years with the semiconductor industry serving as their backbone.
China's New Policy Accommodation
Being one of the biggest investment markets in the world, China's Fiscal Policy Accommodation is presenting many investment challenges and opportunities to investors. The rise in macro and regulatory issues in the country is reshaping their investment ideas for 2022. Now, the investors have to be more careful while investing in sectors like property, education, and gaming.
E-Commerce Is Leading The Market
The E-commerce industry was rising before the pandemic hit the world but with covid-19 restrictions still going strong in some parts of the world, e-commerce becomes the need of the hour. Consumer's transition from traditional, in-person retail sales to online sales isn't reversible and is only going to accelerate in the coming years.
A Shift Towards Flexible Fixed Income
With the inflation rates running wild, bond returns slugged to grow but it also opened doors to solid investment opportunities in corporate bonds. Preferred securities are best suited for income-oriented investors as they have both bond and stock-like features. They usually pay a fixed income, have a par value, hold a credit rating, and trade on a major exchange.
Conclusion
With all the different trends rising in the coming years, take a flexible and diversified approach to allocating your investment money among these different sectors based on market conditions and 2022 investment ideas. The challenging environment is causing more market volatility than ever. So, the investors are advised to opt for a well-diversified investment portfolio and review their investments more frequently.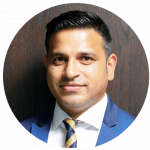 Asfar is an Independent Financial Advisor and Associate Partner with Continental Group based in Dubai, UAE with over 12 years of experience in the region. His clientele includes high networth individuals, corporations, C suite executives, business owners, and entrepreneurs in the region.
Although with proper planning and consistent effort, you can save, invest and distribute your own finances. It is always good to get some professional advice. If you need help in planning your finances in the short, medium, or long term, I can help you do so. You can write to me with your questions and comments to asfar@profinancial.solutions
Take the first step to a better financial life today. Fill out the form to request a call back if you are in Dubai or anywhere in UAE, GCC.