Achieving financial freedom in the UAE (United Arab Emirates) is a goal for many people. It may sound like a little challenging, but it is possible for anyone to achieve. No matter what financial troubles you have today, there is always a way to get back to regular.
Financial freedom is financial planning. It is about having enough money, having self-income and financial support for every action. You should be able to take care of your expenses without the help of others and should be independent financially. Financial freedom is like making your life decisions without getting overly stressed about the financial impact, as you will be prepared. And there are many strategies to achieve it.
The first thing that you need to understand is your expenses, income and savings. Having a clean understanding about this can lead to saving more money than ever. All the unwanted expenditure can be reduced easily. A detailed knowledge about your cash flow can help you achieve financial freedom in the UAE.
Here are a few steps that can help you begin your own journey to financial freedom in UAE.
Think Positively About Money: Part of becoming financially stable involves thinking positively about money. If you keep thinking negatively about money, it is more like an emotional obstacle that you must eliminate so as to achieve financial freedom. When you begin thinking positively about money, you will automatically attract opportunities and open up more doors than you ever thought possible.
Set Financial Goals: Setting financial goals is the most crucial step of wealth management because without a goal is like being a lost man at sea without a compass. You should always set financial goals that are specific, measurable, realistic, and time bound. Adding a time frame for each, like 3 years, 5 years or 10 years, and determining the amount you would require achieving them, can actually pave your way towards financial freedom in UAE.
Financial Planning: Once you have set financial goals, you need to have a financial plan in place. You can have good financial support and improve the level of financial statements with the help of correct financial planning. With a financial strategy in place, you can analyse your income, expenses, and savings and drastically improve the strategy of your economic condition.
Budget Planning: Making a budget plan is a very important step in wealth management. It helps you in understanding where the excess expenditure is going. It can help you prevent the expenses on several things. If all your family members make a budget plan, they will be able to know the whole expenses and can reduce the level of expenditures. For this, you can pen down your monthly income and expenses (outgoing cash) and then decide how to cut the unnecessary expenses and make a profitable savings plan. You can systematically allot money for all your monthly regular expenses and have control over money before the expenses control you. This is a great way to achieve financial freedom in UAE and stay independent.
Saving First: Most of the people have their own ways to save money. But the challenge is to keep up to the plan. When unnecessary expenses keep occurring, saving money for an emergency purpose or future uses becomes challenging. Therefore, if you want to save money as planned, you should save the money first and then spend on your regular expenses. This will help you save money and manage the expenses as per the budget plan or your financial plan. One good way of achieving this goal is through investments.
Investment: Money in liquidity is always at the risk of getting exhausted. If you want to save money and make profits, you can invest in any of the profit-giving investments like bonds, mutual funds, stocks, property, and so on. Before you invest, you must know all the details about investment planning. If you don't have proper knowledge about investments, it is better to avoid any investment schemes. But if you are already well-versed with different investment methods, investment will become an effortless way to earn profit and financial freedom in UAE. When investing in mutual funds, bonds, stocks, or real estate, make sure you do not invest all the money in one single investment method. These investments tend to fluctuate as per the market conditions and the country's money value. Therefore, diversifying investments is advisable. So, in case, one investment is in loss, another one will help to boost up the financial conditions. Money invested in different options can help in difficult situations, especially when there is a loss in an investment. So, always invest the liquidity of money by diversifying it and avoid financial losses.
Emergency Savings: Emergency savings is all about having a minimum amount as a deposit to use in an emergency. This is a very crucial step of financial planning and many people do not have the required money for an emergency situation. Such a scenario can force people to borrow money from money lenders or friends. So, if you want to survive in the UAE, you must save a minimum three-month salary for the emergency. Emergency savings are very much significant for you if you want to achieve financial freedom.
No Borrow Policy: If you want to spend on an impulsive purchase, it is necessary to keep in mind that you follow the no borrow policy. You must remember that the money borrowed is always paid with high interest. When the interest rate goes higher than the borrowed money, it can lead to a critical situation. But, in case you have to borrow money from any bank, you must take clarity of vision about when you can repay the amount and the interest rate that they would charge on the money you borrow along with the additional fees. Most of the time, savings can help to prevent borrowing and also help in gaining financial independence.
These are a few tips and tricks that you should keep in mind to get financial freedom in UAE. Proper financial planning and taking financial decisions after analysing each and every aspect can help you achieve financial freedom.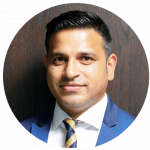 Asfar is an Independent Financial Advisor and Associate Partner with Continental Group based in Dubai, UAE with over 12 years of experience in the region. His clientele includes high networth individuals, corporations, C suite executives, business owners, and entrepreneurs in the region.
Although with proper planning and consistent effort, you can save, invest and distribute your own finances. It is always good to get some professional advice. If you need help in planning your finances in the short, medium, or long term, I can help you do so. You can write to me with your questions and comments to asfar@profinancial.solutions
Take the first step to a better financial life today. Fill out the form to request a call back if you are in Dubai or anywhere in UAE, GCC.