Every business runs on some sort of risk whether it's a large-scale business or a start-up. No business thrives without taking risks. But there is always a way to take those risks calculatedly.
Taking a business loan isn't an unusual scenario. Most businesses run on multiple loans to keep up with their funding for various business functions, which is a sure-short way to get a large sum of money for the business, but only when repaid on time. However, if anything odd happens, you will find your business in huge debts in no time.
Now, this scenario can be avoided with a smart move. While taking a business loan, always keep it risk-free with a business loan protection insurance policy.
Let us understand what exactly is business loan protection insurance in Dubai.
What is Business Loan Protection Insurance?
Let us say, you want to enhance your business portfolio by stepping into a new industry or opening a new branch. For this, you need a large sum of money which most probably your business cannot accumulate right now. So, you decide to contact a bank to apply for a business loan. A bank never simply provides loans in the name of the business. They choose a key person in that business, that can be the director, chairperson, CEO, or founder. And they sanction the loan in that person's name. Now if anything happens to that person, may it be a critical illness and he or she passes away, or due to any disability cannot work anymore with the business, the bank will likely recall the loan leaving the business in a very trembling state.
In such a scenario, a business loan protection insurance plan comes into play. This insurance ensures a pay-out amount in such cases, which can be used to repay the debt or for other business functions.
In case you don't have an active business loan insurance plan, either another key person of your business or your business itself has to repay the loan taken from the bank. Accumulating such a large amount on such short notice is very difficult for any level of business. It can lead to high debts which further degrades the image of your business, disrupting the usual cash flow. And your business may even come to a state of shutting down.
What Is Business Loan Protection Insurance for Small Businesses?
When it comes to small businesses, recalling business loans becomes a much more adverse event. Since the business is running at a small scale it is highly dependent on the daily cash flow. Passing away or critical illness of a key person in the business not only affects the loan process but also the basic functioning of the business. In such cases, the business falls off easily and finds itself in huge debts to pay off.
Most probably the lender (another key person of that business on whose shoulder the responsibility of loan debts came upon) won't be able to repay the debt on time by even selling some business assets. If the bank sees no possible chances of getting the loan back, it may cease the personal assets of the lender to protect the bank's assets.
Who is covered and who benefits?
The business loan protection insurance plan covers the guarantor of the loan, basically the lender. As the bank always includes a guarantor while sectioning a loan for any business.
Since the responsibility of repaying the debts falls on the guarantor in case anything happens to the key person on whose name the loan is sanctioned, the business insurance plan protects the guarantor of the loan. If the guarantor also passes away or falls terminally ill, the insurance company will pay all the debts saving the business from collapsing. It's a win-win for the business and the bank.
Can it include disability insurance?
Thankfully the answer is yes. Any disability that leaves the key person unable to work is covered under the insurance policy. It could be a critical illness or a partial long-term disability that makes the person leave the business for a particular amount of time as stated in the terms of the policy.
But keep in mind not all business loan insurance plans cover disability insurance. You have to go through their terms and conditions to be fully assured. Though, finding a business loan protection insurance plan that covers disability isn't difficult. You can easily take the help of a financial advisor in Dubai to do the formalities, so that you can better understand what you are signing up for.
Importance of Business Loan Protection Insurance
Loan debt amount paid on time may not seem big enough to worry about, but when it exceeds its normal range, it can easily shake your business. If anything happens to the key person on whose name the loan is sanctioned and the guarantor of that loan, that's what is about to happen. A business loan protection insurance plan plays a key role in such scenarios. It saves the guarantor as well as the business from taking a hit.
Conclusion
Business loan protection insurance plan is a smart way to tackle any unforeseen situation while taking a loan for your business. It helps you in the challenging times so that you can focus on your business, not on the debts.
Although it's not always necessary to take a business loan protection insurance policy for every loan you take for your business. Talk to your wealth management advisor in Dubai before taking any loans as well as policies to better understand the risks involved and the possible situations coming your way.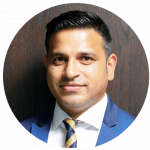 Asfar is an Independent Financial Advisor and Associate Partner with Continental Group based in Dubai, UAE with over 12 years of experience in the region. His clientele includes high networth individuals, corporations, C suite executives, business owners, and entrepreneurs in the region.
Although with proper planning and consistent effort, you can save, invest and distribute your own finances. It is always good to get some professional advice. If you need help in planning your finances in the short, medium, or long term, I can help you do so. You can write to me with your questions and comments to asfar@profinancial.solutions
Take the first step to a better financial life today. Fill out the form to request a call back if you are in Dubai or anywhere in UAE, GCC.