Calculate retirement funds: If you are nearing retirement and are concerned that you haven't set aside a certain amount or if it does not feel like enough to last throughout your non-working years, you are certainly not alone. According to a survey, 45% of people say outliving their savings and investments is one of their greatest retirement fears.
So, as you approach your retirement, a key part of the retirement savings plan includes the question "How Much Money Do I Need to Save for Retirement?" or rather the bigger concern is "How Do You Say You Have Enough Money To Retire?"
Well, the answer to this question largely depends on the income and the lifestyle you want in retirement. However, very few people place any serious thoughts into retirement plans, until it is too late. Here are some statistics shared by experts.
How Do You Say You Have Enough Money To Retire In UAE?
According to a recent survey, almost half of UAE expatriate employees have no retirement plan to ensure an adequate standard of living after retirement, but to work for as long as possible. This is because many people expect their end-of-service benefits to meet their long-term financial needs, which is completely wrong. The fact is end-of-service is equivalent to only 2 years of salary after 25 years of service and you require more than 10 times your salary for a retirement savings plan.
According to experts, if you want to retire by the age of 65, you should have 10 times your income saved. So, this clearly states that if you earn 50,350 AED per year, you should theoretically have 560,000 AED (approximately) saved by your 65th birthday. And some experts even debate that you should have double this amount.
Therefore, it is very crucial to plan your own finances in order to retire comfortably. Knowing the fact that investments grow over time, starting early in life is the best way to have a fool proof retirement plan UAE. And it's never too late to begin.
Answering some basic questions for a retirement savings plan can spark the sort of forward planning and decisive action to put your retirement income within reach. Here are 6 steps to improve your long term retirement and security.
6 Steps To Improve Your Long Term Retirement Plan & Security
Envision Your Future & Establish Your Goals: Do you have a retirement plan in place? Do you already have a home to retire to? Are you going to retire in the UAE or somewhere else? Before you get started on setting money aside on a committed basis, it is advisable to have a goal in mind. Figure out an age at which you want to retire and what kind of lifestyle you want in retirement. This will give you an idea about how much you need to set aside.
Estimate Your Income Needs & Retirement Savings: Now that you have sat down to plan for retirement and you are calculating how much money you will need in retirement, you should take the time to write down all your predicted spending. This will help you properly assess the amount of cash it will take to afford the retirement lifestyle you want. To estimate the amount your retirement savings require, you can calculate it depending on your current living expenses or use free retirement planners and calculators available online or can also discuss things in detail with a Financial Advisor.
Write Out Your Retirement Plan & Strategy: While you calculate what your finances will look like in retirement, it is equally important to include that in a bigger plan of your overall retirement lifestyle. As per the statistics, only 22% people have set forth a written strategy for their retirement plan. In a retirement savings plan, you should include expected retirement age, living expenses, sources of income, government benefits, inflation, savings and investments, and the potential need for long-term care. Additionally, you must consider how your assets play a role in your overall wealth, as equity in the home is also a retirement asset, which can be used to take out a reverse mortgage or by selling the equity and moving to a less expensive home.
It's Never Too Late to Start Saving: The classic investment advice states that the best time to start saving for your retirement was 10 years ago. But the second-best time is today. You can get started on your investment journey as early as possible to potentially earn investment returns over time, especially from equities and also to take advantage of the effect of compound interest. The earlier you start, the faster you become self-sufficient.
Evaluate Your Risk Profile: Any investment plan or retirement plan must necessarily consider your appetite for risk, or your willingness to take risks. The risk tolerance for any individual is different, and can also vary based on the age, current financial position, your liabilities, dependents and similar factors. Any investment that generates higher returns often comes with the risk of losing all the principal amount, like in the case of equities. However, this risk can be balanced out by higher returns for the longer you stay invested. Once you know your risk profile, you will get a better and clearer idea of the kind of investments that can suit your portfolio. For instance, whether you should invest directly into equities or whether you should go for a low-cost exchange-traded mutual fund for a safer bet.
Seeking Professional Financial Advice: While working on a plan of retirement, you might find it intimidating and navigating. As per the statistics, nearly 45% people use a professional financial advisor to help manage their retirement savings and investments. If you also need assistance or have questions about retirement plan UAE, consider seeking professional advice. Financial advisors like Asfar Ibrahim offer one-on-one retirement planning, advice and overall coaching to help you reach your financial goals.
Planning for retirement can be overwhelming, no matter how far away it is. But rather than getting overwhelmed, try to be proactive and plan out your future. The sooner you get started, the sooner you can begin building savings, addressing potential shortfalls and improving your long-term financial security with a fool proof retirement plan UAE.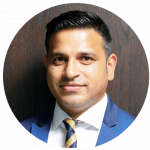 Asfar is an Independent Financial Advisor and Associate Partner with Continental Group based in Dubai, UAE with over 12 years of experience in the region. His clientele includes high networth individuals, corporations, C suite executives, business owners, and entrepreneurs in the region.
Although with proper planning and consistent effort, you can save, invest and distribute your own finances. It is always good to get some professional advice. If you need help in planning your finances in the short, medium, or long term, I can help you do so. You can write to me with your questions and comments to asfar@profinancial.solutions
Take the first step to a better financial life today. Fill out the form to request a call back if you are in Dubai or anywhere in UAE, GCC.