Welcoming kids into our life is like a dream come true. Our little bundle of joy makes all the nightmares disappear, because most of us will find ourselves spending lots of sleepless nights changing diapers, singing lullabies, catching up on work, and whatnot. But the good thing is we don't have to lose our sleep over finances.
From child care to college funds, our financial plan should be fool-proof. Financial planning for kids' education isn't a cakewalk, but it isn't rocket science either. All we have to do is take some time to gain valuable knowledge on how to fit the kid's college into our financial plan and reshape our financial goals accordingly.
To make a realistic and successful financial plan, we have to understand the do's and don'ts of financial planning for child education. Let us start with baby steps.
Do's Of Financial Planning For Child Education
Start saving today: College education is invaluable but unfortunately quite expensive. So, you have to start saving as soon as you can. Why save and not go for a student loan? The answer is simple. With interest, you will end up paying more for your kid's college. It's wiser to start early to accumulate a notable amount of money.
Go for illiquid plans: Financial planning in UAE gives you many choices. It's best to choose illiquid plans for college funds. Since the money is not easy to get your hands on, you will not be able to use it for any other purpose. Because whether you are a disciplined person or not, seventeen years is a long time to dodge temptations, and liquidity can make things easy for you.
Choose short payment tenures: Things may not remain the same over the years. You might lose your job or welcome another kid into your family. Any big event that forces you to look over your financial plans will surely make you want to modify them too. Short payment tenures allow you to remodel your financial plans according to your changing needs.
Don'ts Of Financial Planning For Child Education
Overlook your retirement plans: Every part of financial planning in UAE is crucial, whether it's your retirement plan or your child's education plan. You can't overlook one to take care of the other. If it's not easy for you to balance both, take the help of a professional financial advisor for financial planning in Dubai. Remember, there may be loads of options for student loans, but not for retirement loans.
Invest in an unpredictable market: Your child's future shouldn't be dependent on market volatility. This money is for investing in your child's education, not for the market. Only invest in guaranteed return plans. Lower return rates are far better than the possible loss of the entire college fund.
Treat college funds as an emergency fund: Life throws many surprises on our way. To deal with any unforeseen emergency, don't use the college fund. Instead, be prepared with a separate amount especially saved for emergencies reflecting your monthly needs and expenses.
Bonus Points
If you are planning to take an insurance policy for the kid's college fund, make sure to add a waiver of premium benefit to it. How does that help? If anything happens to you, the insurance company will pay the remaining premiums for your policy. As a result, your child's education won't suffer.
If you are planning to opt for a saving plan, make sure to add a term insurance plan. Again, the idea is simple. The term insurance plan will ensure that your child's education won't suffer because of your death.
Now that you know the basics of financial planning for kids education. Let's move further towards other aspects that you should keep in account to make sure everything runs smoothly.
Creating a child education financial plan Dubai makes you think about other expenses in your life too, such as mortgage loans, healthcare, emergency funds, etc. Since your child's education can suffer because of poor decision-making in these areas, here are some tips and tricks to keep you going.
Here Are Some Helpful Tips & Tricks
Health insurance: Upgrade your health insurance plan to cover your entire family. You can also open a health savings account for medical-related expenses.
Life insurance: A sound financial plan works beyond your physical existence. Now that you have a child to take care of, you should not neglect your life insurance policy. It can serve as a lifesaver for your child if anything happens to you.
Emergency funds: Increase the amount in your emergency funds as the size of your family increases. Since your expenses increase with an increase in the number of members in the family, you should be well prepared financially for any unforeseen emergency.
Mortgage loans: If you have a mortgage loan to pay, take out a separate amount of money for this purpose only. As having a home is a basic necessity, you cannot lose this money over luxuries.
Other savings: A child opens up a new door to life for the parents. Family vacations, childcare, school fees, your child's first car, his/her wedding, everything comes with a price. There are many other expenses to consider in reshaping your financial plans.
Financial planning is a lot to take, especially when you are working full time. You may not know the best methods to make a financial plan or even don't get enough time to perform thorough research. But always make sure to take advice from a professional financial advisor.
Just a little bit of time and effort from your side can ensure a bright future for your child. Don't delay the essential step of including your kid's college fund in your financial plan. After all, financial planning is an integral part of family planning.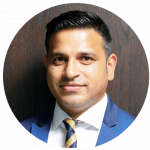 Asfar is an Independent Financial Advisor and Associate Partner with Continental Group based in Dubai, UAE with over 12 years of experience in the region. His clientele includes high networth individuals, corporations, C suite executives, business owners, and entrepreneurs in the region.
Although with proper planning and consistent effort, you can save, invest and distribute your own finances. It is always good to get some professional advice. If you need help in planning your finances in the short, medium, or long term, I can help you do so. You can write to me with your questions and comments to asfar@profinancial.solutions
Take the first step to a better financial life today. Fill out the form to request a call back if you are in Dubai or anywhere in UAE, GCC.