We are in the 21st century, but the idea of life insurance for high net worth individuals still faces a negation. There are analogies that suggest that a strong financial position is enough to back their insurance needs.
People who are entrepreneurs, directors of companies or business partners in large firms, have massive illiquid assets like huge real estate investments, account receivables, machinery and so on. And life insurance isn't just about providing financial cover when there's a loss of life, it also has to do with specific requirements of individuals with a high net worth.
Now, you may be wondering why an ultra-rich person might even need life insurance. But to give you more clarity on why life insurance cover is so crucial, let us dig deeper and understand the insurance requirements of high net worth individuals.
Why is Life Insurance Necessary in Dubai, UAE?
Dubai is a home to some of the most successful start-up organizations and high net worth individuals on the planet and this is no secret. Here, people look for additional access to liquid capital. In such scenarios, high networth life insurance in Dubai can come in handy.
There are exclusive life insurance options for wealthy individuals, among which high-value life insurance plans are most sought after. High net worth individuals have unique needs compared to ordinary people, and they obviously need plans which address their direct requirements.
Here are a few reasons which define the need for a high net worth life insurance.
Business Continuity: A business is subject to certain risks, which may, at times endanger its very existence. When you have opted for insurance on all the partners, the insurance company has the liability to cover such scenarios. Also, the insurance can address the claim of a deceased partner's successor and there will be no cash stress on the company.
Tax & Other Liabilities: All businesses need to plan their tax structuring. Generally, high net worth individuals are associated with large companies, and they need to make sure that they have enough liquidity to pay taxes and old debts. High-value life insurance can play a very important role in such scenarios.
Legacy Planning: High net worth individuals are seldom on their own as they are generally responsible professionals who need to take care of family and dependents. Moreover, they also need to deal with several complications. This includes business transfer, real estate, creditor and privacy protection, cost avoidance, and so much more. Apart from these needs, keyman protection, charity, wealth preservation are other reasons why life insurance for wealthy individuals is so important.
General Purpose: Wealth is highly volatile, and it is quite unreasonable to state that a particular individual will stay rich for the next decade if they are rich today. In case of any mishap with the individual, his financial stability is bound to receive a jolt. In this situation, only a high net worth life insurance can take care of the needs of the family.
Types Of Life Insurance Policies In Dubai For HNIs
Among numerous life insurance policies in Dubai, following are some of the highly preferred life insurance for high net worth individuals.
Term Life Insurance: The basic plan and most affordable type of life insurance policy available in Dubai is term life insurance. As the name signifies, a term life insurance offers financial coverage for a specific term of years. The benefits of the plan are disbursed to the beneficiary in case the insured individual passes away during the period, while the plan is still active.
Whole Life Insurance: These life insurance plans offer coverage till the whole lifespan of the policyholder and not for a defined term. On the untimely demise of the insured individual, the assured sum is paid to the beneficiary. Apart from the death benefit, the whole life insurance plan also covers a saving component that accumulates a cash value, and a policyholder can rightfully withdraw or borrow the amount as per their convenience.
Endowment Plans: These plans offer regular benefits, which come as a part of whole life insurance. Additionally, they also provide certain maturity benefits once the policy ends. Endowment plans are also largely preferred by high net worth individuals.
Pension Plans/Retirement Plans: Pension plans assure the insured individual a secure retirement wherein they are given timely monetary benefits as regular income. The annuity payment depends on the type of policy chosen. High net worth individuals who are into a salaried profession can prefer pension plans as this will assure them a regular benefit even after their superannuation from their job.
Top Life Insurance Companies For HNIs In Dubai, UAE?
Let's look at the top companies in Dubai, UAE that provide life insurance for wealthy individuals.
●      AXA Life Insurance: The renowned French insurance provider offers a huge range of insurance services worldwide. The AXA Life Insurance operates in the Middle East and is generally preferred by high net worth individuals due to its innovative insurance plans and customer-friendly approach.
●      Zurich Insurance: Zurich Insurance is another trusted name among Dubai residents who want an insurance provider which stands true to their word. Zurich provides a variety of high net worth life insurance plans, and people can even opt for individual illness insurance, which is an additional benefit with certain life insurance plans.
●      Metlife Insurance: They offer flexible and easy to understand insurance policies with a relatively lesser number of conditions applied. Metlife also offers joint insurance coverage plans for high net worth individuals who want a policy with their spouse or kin.
●      LIC Insurance: LIC is among the legacy insurance providers in Dubai. Their insurance plans are designed while taking into account the needs and economic scenario of the UAE residents. Many high net worth individuals are known to opt for LIC life insurance plans.
Life insurance for wealthy individuals is called life insurance cover for a very understandable reason. The uncertainty of life in modern times has touched the rich and poor alike. For high net worth individuals, the stakes are even higher. Therefore, it is wise to opt for a suitable life insurance policy as a necessary step towards planning the future on a balanced scale.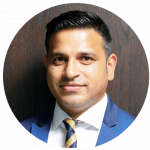 Asfar is an Independent Financial Advisor and Associate Partner with Continental Group based in Dubai, UAE with over 12 years of experience in the region. His clientele includes high networth individuals, corporations, C suite executives, business owners, and entrepreneurs in the region.
Although with proper planning and consistent effort, you can save, invest and distribute your own finances. It is always good to get some professional advice. If you need help in planning your finances in the short, medium, or long term, I can help you do so. You can write to me with your questions and comments to asfar@profinancial.solutions
Take the first step to a better financial life today. Fill out the form to request a call back if you are in Dubai or anywhere in UAE, GCC.