Retirement planning in UAE is a process that involves multiple steps and evolves over time. To have a secure and comfortable post retirement life, you need to have a financial solution that can fund it all and it doesn't have to be complicated.
But the truth is only some of us save enough for our retirement and only a handful people, actually have a retirement investment plan in place. If you are planning to retire at the age of 60, you need to save a large amount of money. But only few people know the best way to go about building a plan like this.
Have You Done Your Retirement Planning in UAE?
In the UAE, there is a large working population of expats and it is crucial for them to make sound financial decisions to live a financially independent life post-retirement. But for expats, who are far away from home, planning finances optimally and making room for a post-retirement income may sound challenging. 
While working in the UAE, you must make sure that you make the right use of the income i.e. have emergency funds, which can prove to be a saviour during job loss, plan for savings in order to meet mid-term financial goals and have a retirement plan in place. Usually, expat workers in the UAE are not eligible for pension funds, but they are eligible for end of service benefits, which may not suffice as retirement funds, especially when standard of living is taken into consideration. Therefore, if you are an expat worker, you must plan your retirement through wealth growing options.
Best Retirement Plans UAE
Here are 5 simple steps to play your retirement and ace your second innings with best retirement plans UAE.
List Down Your Estimated Expenses:

The first thing that you need to do is pen down your expenses in order of priority. Even if you don't have a steady income, you can live your post retirement life, the way you want it to be. If you plan early, you can plan for all the luxuries of your life, by just designating a budget for it and start investing/saving for the same.  

Speak To A Professional:

Now that you have listed down your estimated expenses, the next step is to speak to a professional. It is worth speaking to an advisor, when starting with your

retirement planning in UAE

.

Broaden Your Investment Horizon

: If you have been sticking to only low risk investment planning, then it is time to move away from such notions. These days, there are several investment options available in the market and choosing amongst them completely depends on your risk tolerance and financial goals. To avoid high-risk paths with your hard-earned money, it is always advisable to diversify your money into various portfolios. This will reduce the risk factor and earn good returns while keeping your portfolio safe.

Investing in foreign countries

: You can always invest in foreign countries like Singapore, Japan, Switzerland, Cayman Island and Isle of Man, which are some of the best investment destinations in the world. But before you make a decision, you must do your homework and get expert advice about the investment avenue, size and type of the platform and also note the eligibility criteria to invest.

Investing in home country:

Many budding investors prefer investing in their home countries. They take comfort in investing in something they are familiar with and it also involves lesser paperwork and legal formalities.

Real Estate:

This is one of the most

trusted forms of investment and also a high-value investment option. As an expat, before considering the property investment option, you must consider "where would you like to retire?"

Bank Fixed Deposits:

Fixed deposit is another popular investment option, which is an easy and secured long-term investment option too, where banks hold the investment for a particular time and pay interest on it. The fixed deposits can be considered anywhere irrespective of your location.

Stocks:

Stocks are one of the highly considered investment options to create wealth. It is a long-term investment option that grows your money with time and provides good returns. Expats can either invest in the stock market in the UAE or their home country.

Pension Scheme:

Most of the countries offer a pension scheme to their citizens. As an expat, you can invest in the

best pension plans in UAE

and this can offer reasonable returns to keep your retirement life financially stress-free.

Gold

: UAE is the Land of Gold. Apart from being an accessory, Gold is also a good investment option for expats. It's value appreciates over time and provides decent returns when financial assistance is required.

Calculate After-Tax Rate of Investment Returns

: Once the spending requirements and expected time horizons are determined, the after-tax real rate of return must be calculated in order to assess the feasibility of the investment plan producing the needed income. A required rate of return in excess of 10% is an unworkable target, even for long-term investing. As you grow old, the return threshold goes down because low-risk retirement plans mostly comprise of low-yielding fixed-income securities. For instance, if an individual has a retirement portfolio worth 400,000 AED and income needs of 50,000 AED, assuming no taxes and the preservation of the portfolio balance, he is relying on an excessive 12.5% return to get by. One major benefit of planning for retirement at an early age is that the portfolio can be grown to safeguard a realistic rate of return. So, using a gross retirement investment account of 1 million AED, the expected return would be a much more reasonable 5%. Depending on the type of retirement account, investment returns are typically taxed. Therefore, the rate of return should be calculated as per after-tax basis. But calculating the tax status when you begin to withdraw funds is a crucial component of the retirement planning process.

Start Small But Start Now

: The simple rule is, the early you start, the bigger corpus you will accumulate. If you start investing at an early stage, your savings will get compounded for a longer period of time. So, there is absolutely no reason why you can't save a very healthy retirement pot. The trick is to start small but start as early as you can.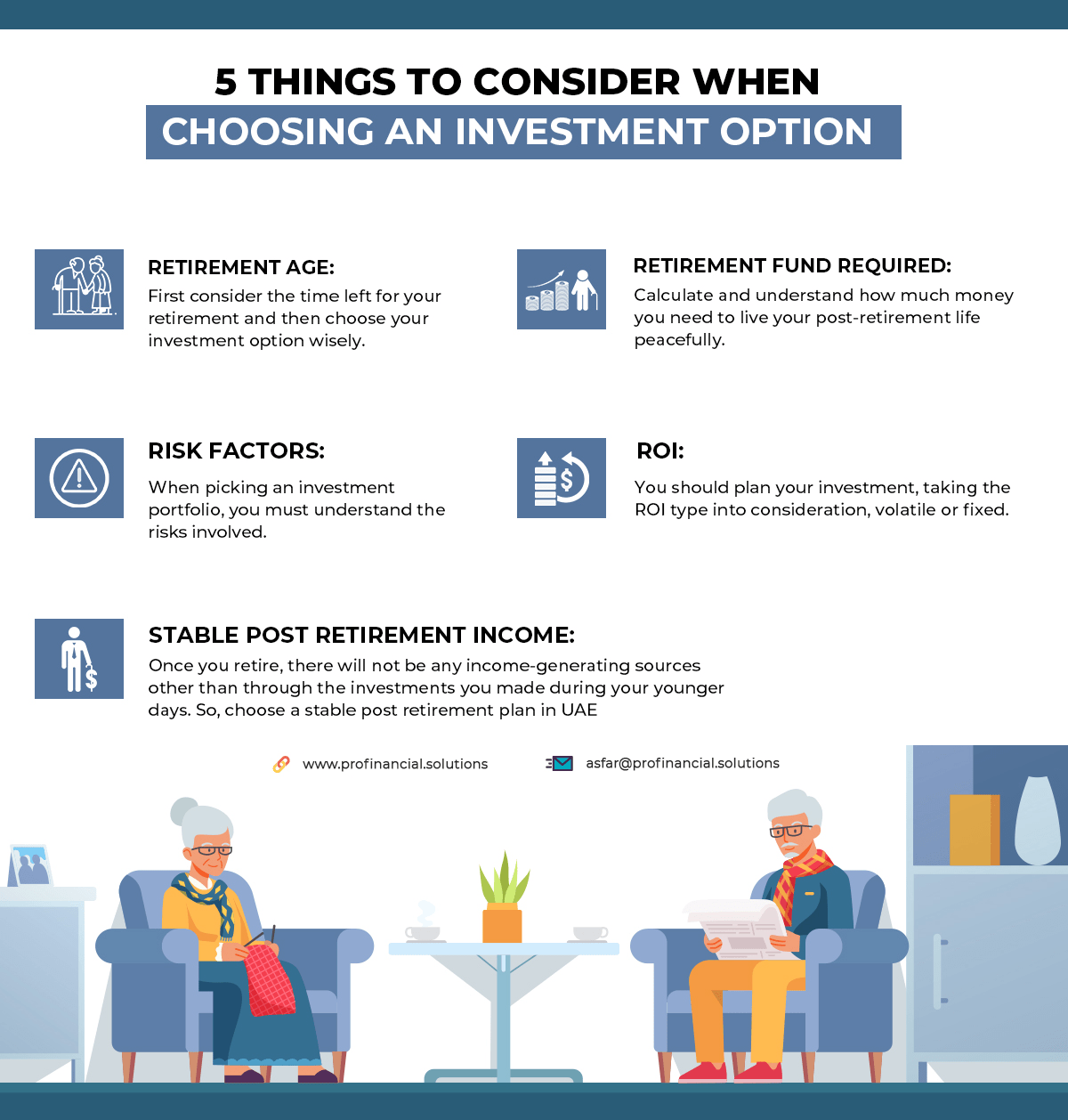 For most of us, retirement can be a long way from now. But by the time we realise its importance, it is too late. Now that you have made up your mind to invest, make sure you do it wisely.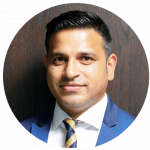 Asfar is an Independent Financial Advisor and Associate Partner with Continental Group based in Dubai, UAE with over 12 years of experience in the region. His clientele includes high networth individuals, corporations, C suite executives, business owners, and entrepreneurs in the region.
Although with proper planning and consistent effort, you can save, invest and distribute your own finances. It is always good to get some professional advice. If you need help in planning your finances in the short, medium, or long term, I can help you do so. You can write to me with your questions and comments to asfar@profinancial.solutions
Take the first step to a better financial life today. Fill out the form to request a call back if you are in Dubai or anywhere in UAE, GCC.