Wealth management industry has evolved manifolds and the Middle East is no exception. When we say wealth management, it is all about managing your wealth, including anything from a professional assisting you in your investment needs or doing the investing yourself.
Wealth management in Middle East has evolved into an advisory service that combines the use of cutting-edge financial analytics and other financial tools to provide you with the best return for your money. A lot of countries have been looking into wealth management as a way to manage their stagnant assets but not as much as the UAE. In fact, wealth management solutions in UAE have become a multi-billion-dollar empire.
How has Wealth Management Evolved in the UAE?
The Middle East was home to the traditional banking systems that were generally operating in modern countries globally. Historical financial institutions like Mashreq Bank were the go-to names for anything related to money.
However, the introduction of technology has propelled UAE towards a more software-based economy. The Middle East, in general, has become an ecosystem where there's a place for fintech companies and evolving disciplines like data science.
Slowly but surely, wealth management became a term that was inseparable from finance in the UAE. Investors realized its importance because it became evident that savings bank accounts won't cut it.
Why Do I Need Wealth Management?
The essence of wealth management is to make your money start working for you. Most eminent investors believe that your investment is successful when you invest enough to generate passive income. This can be seen with all the top wealth management solutions in UAE. Anyone who hires the right wealth management service can sit back and watch their money grow.
You may be thinking, well, if it's that simple, why can't I do it myself? The truth is it is far from simple. Most wealth management firms use the most complicated algorithms; this allows them to predict the market and make the most from their investments. Moreover, the firms that offer wealth management in Middle East use their own patented algorithm or their own prediction data, making sure you won't be able to replicate what 20 analysts are working on, on your own.
Types Of Wealth Management
All wealth management solutions in UAE may look similar, but there are three types of wealth management services in the Middle East or anywhere in the world.
Product Vendors: Product Vendors are the gateway to the wealth management world, and they deal mainly with products. A product vendor wealth management service aims to diversify your portfolio and provide you with market-beating performance. After a preliminary meeting with you, the firm will get a basic understanding of which direction to take your investment in. Any underperforming assets are immediately removed and replaced with better ones to provide an above-average return on investment. Product vendors are the most common types of wealth management services Dubai gives you access to.
Customized Traders: Unlike product vendors, customized traders take your portfolio one trade at a time; this is for clients that want a higher involvement in their wealth management solutions in UAE. In the case of customized traders, clients are normally consulted on every trade before it is made. In case of customized trades, you can be sure that every client has their own unique portfolio, and every transaction and analysis is tailor-made to each client's investing decisions.
Wealth Planner/ Coaches: Wealth planners and coaches are deeply involved with their clients. In case of planners or coaches, the firms assign one person to be a liaison with the client. This person has the task of conferring with the client and asking how diverse they would like their profile to be; after this, the firm will have suggestions that are pertaining to the clients' investment plan. Each suggestion will be explained as well as the desired result, and ultimately the client decides where they would like their money to go. While this is not that common in wealth management in Middle East, it is the go-to for those who want to be involved in investing their money.
What Services are Included in Wealth Management?
Wealth management firms offer various services that take care of the broad level portfolio of an individual. This includes:
Tax planning
Estate planning
Life Stage planning
No one likes to spend their hard-earned money on taxes. In fact, most governments themselves give you the option to save taxes in a legal manner. Getting health insurance is one of the most popular examples of this.
With the help of top-notch wealth management solutions in UAE, you will be able to understand the intricacies of the UAE tax law and use it to your advantage. The information provided may span from anything that includes filing returns, getting tax reliefs and subsidies to identifying the best tax structure for your personal wealth. Most of these services are tailor-made to suit your personal needs after looking at your goals, your tax dues, your financial plans and the market conditions.
What are the Important Components of Wealth Management?
Wealth management may sound like one holistic service, but it is, in fact, broken down into several phases of understanding and executing the right methodologies. Some of the most important components include:
Consultation: Most world-class wealth management solutions in UAE will start off with a consultation. This is how they find out what direction you would like your wealth management to go in; this is the best way for firms to understand clients and their needs. An industrial management process will start with counselling and then move on to educating and advising.
Options and Solutions: After a preliminary consultation, wealth management solutions in UAE pass the client-specific data on to their analysts. These analysts work to find the investment that is perfect for you, using prediction algorithms and current market trajectory. These analysts come up with unique market solutions for individual clients.
Close Consultation: While investing is very much an ongoing project, most of these wealth management services Dubai will have quarterly meetings with clients to inform them of how their investments are doing. During these meetings, alternative courses of action may be discussed if the client is not satisfied with the current trajectory of their portfolio. The clients can also use these meetings to change their investment strategy and any other changes they may like.
Wealth management is a complicated process, but the end goal is to ensure that the client's return on investment is exponential. By hiring professionals to manage your money, you not only get the best prediction, but you also have the time to focus on other passions as you watch your money work for you.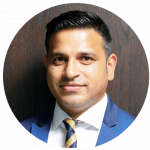 Asfar is an Independent Financial Advisor and Associate Partner with Continental Group based in Dubai, UAE with over 12 years of experience in the region. His clientele includes high networth individuals, corporations, C suite executives, business owners, and entrepreneurs in the region.
Although with proper planning and consistent effort, you can save, invest and distribute your own finances. It is always good to get some professional advice. If you need help in planning your finances in the short, medium, or long term, I can help you do so. You can write to me with your questions and comments to asfar@profinancial.solutions
Take the first step to a better financial life today. Fill out the form to request a call back if you are in Dubai or anywhere in UAE, GCC.