Over half of the world's working population will be living a life of financial scarcity as they enter retirement. A global report by HSBC, a couple of years ago stated that more than two-thirds (69%) of working-age people are worried about running out of money in retirement. In contrast, 66% are concerned about having enough money to live on day-to-day in later life.
If you think you are going to be one among the above group, it is no wonder, as you see most of us are. What these statistics say is, even if you are not a spendthrift in your earning years you can still end up with less when you retire. Personal finance management is a crucial thing in our life, but most of us have never learned in our schools or colleges.
All the financial literacy we receive is from 'Trial n Error' or by talking to our peers and parents, who, unfortunately, are also learning from their mistakes. What is alarming is the domino effect of this lack in financial knowledge. If you do not have enough to save and provide then your children will also follow suit as they will exit college with debt and have to take care of when you retire.
What if you could resolve these financial issues before they even started to affect our lives? Financial literacy is the answer. You dont have to take a course on this, just knowing how to deal with money or listening to your advisor is sufficient.
Five principles of financial literacy
A considerable portion of the UAE population is made of expats, which might make managing finances a bit more complicated. Whether you choose to stay for a short or a long period understanding financial matters is key to prosperity and comfortable retirement. There are five key areas you should keep up with when it comes to Financial Literacy, which is also the basic principles for securing your financial future.

Budgeting is so critical: Creating and sticking to budget is one of the most fundamental aspects of financial management. If you are not so good at it, you can take help from a financial planner initially or start simple with online apps. Without following a budget, you would find yourself confused about where the money is going. Master the basics of budgeting, set aside an amount for savings from the beginning.

Learn how to live beneath means: Saving money is essential, but what is more important is investing your savings in getting better returns. Hence, living beneath your means and saving is one of the basics of financial literacy. Skills you learn to manage your budget and save money can help you gain useful knowledge and practice for a lifetime.

Knowing debt is not an answer: It is crucial to saving yourself from the credit-debit cycle. Amassing debt for unimportant reasons can end up costing you throughout your adulthood, and diminish your retirement savings. That's why it's essential to grasp the concepts and tools behind responsible credit practices.

Understanding the importance of emergency savings: Never undermine the importance of an emergency saving account, in case of an emergency it can save you from going deep into debt. You should have at least three months of your salary as an emergency fund. You can invest in an insurance, pension fund or a critical illness plan and have something in reserve for the unexpected event.

Know the advantage of compounding income: Understanding the ins and outs of investing and reinvesting is one of the most important factors in taking control of your financial life. Compounding investment works magic, if you start investing in your 20s and thirties you will be able to retire rich depending on how much you invest. Simply speaking, compound income earned on money that was previously made from your existing investments.
In conclusion, we all know money affects our lives every single day. We need to pause and look forward to the future, and how we want to live it. Financial literacy empowers you so that you can end up living really powerful financial lives.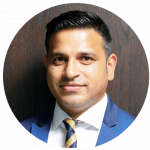 Asfar is an Independent Financial Advisor and Associate Partner with Continental Group based in Dubai, UAE with over 12 years of experience in the region. His clientele includes high networth individuals, corporations, C suite executives, business owners, and entrepreneurs in the region.
Although with proper planning and consistent effort, you can save, invest and distribute your own finances. It is always good to get some professional advice. If you need help in planning your finances in the short, medium, or long term, I can help you do so. You can write to me with your questions and comments to asfar@profinancial.solutions
Take the first step to a better financial life today. Fill out the form to request a call back if you are in Dubai or anywhere in UAE, GCC.