A life insurance policy is the best way to safeguard your family's future financially even in your absence. When choosing a policy, it is easy to get confused with different options in hand. Buying a wrong insurance can bring a financial disaster, if it leaves your loved ones without the protection they need.
An important question that you need to consider while choosing an insurance policy is whether you need to buy a permanent or term policy. These are two basic life insurance options. While term insurance lasts for a specific, pre-set period; permanent insurance lasts for your entire lifetime.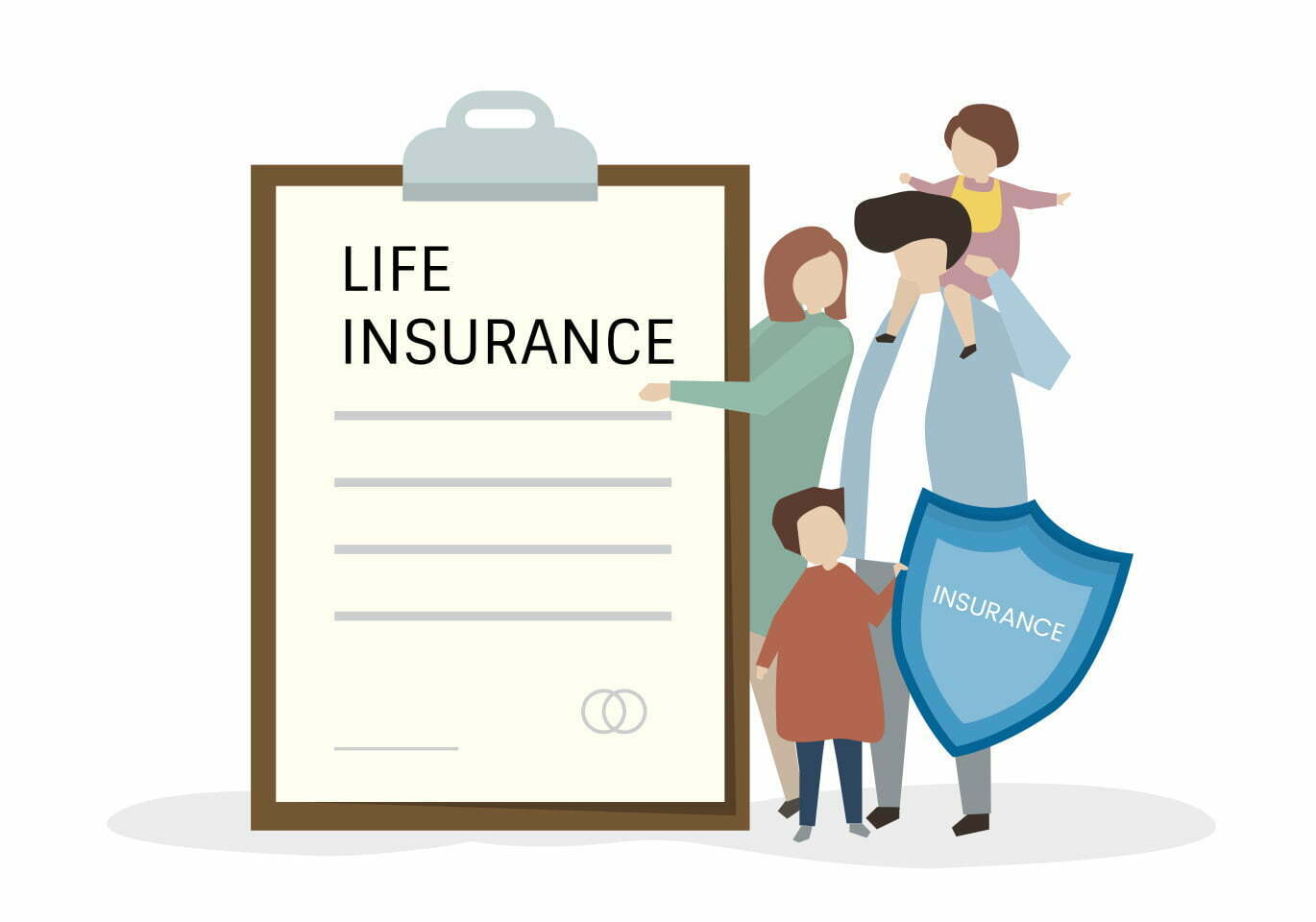 Depending on your needs, you can choose the affordability of term life, which is most often used for temporary, short-term needs like mortgage. Or, you can also go with the lifelong protection and cash value that most permanent life insurance policies offer.
But before you make your decision around term insurance vs. permanent insurance, you should understand the difference between the two.
What is Term Insurance?
Term life insurance is very easy to understand and has the lowest prices. It covers you for a fixed period of time, like 1, 10, 20 or 30 years. It acts as a short-term financial safety net.
You purchase a specific amount of coverage and the policy stays in effect for the set period, which is usually anywhere from 5 – 30 years. As the term expires, you need to renew the policy to continue the coverage or you can also convert it into a permanent policy. Usually, the premium for term life is much lower than permanent insurance. Depending on the age, health and the amount of coverage, you need a term life policy that will cost just a few hundred Dirhams a year. While some insurers offer level premiums, others offer graduated premiums that increase after some years. The premiums usually increase if you decide to renew your policy after its initial term.
Unlike permanent insurance, term life policies do not allow you to build any cash value. Once the policy expires, you cannot get the money back unless you include a return of the premium rider. If you opt for a policy with such an option, you will have to pay more for the coverage.
What is Permanent Insurance?
Permanent life insurance is an umbrella term for policies that do not expire. This permanent life insurance combines a death benefit with a savings portion. It is designed to stay in place for your entire life. Permanent insurance costs more than a term life insurance policy.
There are two primary types of permanent life insurance policies:
Whole Life: Whole life insurance offers fixed premiums for as long as the policy is in effect. As you pay the premiums, cash value gets built up in the policy. Depending on the insurance company, you may receive the dividend payments from the policy.
Universal Life: Universal life insurance offers a little more flexibility than whole life coverage. It is attached to an interest-bearing account. You get the option to adjust your death benefit or premiums within certain limits. Normally, you can borrow or withdraw against funds held in the account as long as your premiums are covered. However, any unpaid loans will reduce the amount of death benefits payable.
There is something called variable life insurance policy. This policy offers a broader range of investment choices and is a better option for those more comfortable taking on a higher degree of risk. The value of the policy completely depends on market performance, which means your benefits and premiums may decrease or increase over time. You can even borrow against this policy, but outstanding loans will reduce your death benefit.
While permanent life insurance policy is more expensive than a term policy for the same death benefit, many people prefer buying a mix of term and permanent life insurance. Some term policies can also be converted into a permanent policy in the future without having to take another health screening. If you are interested in a death benefit that will not expire and also want the cash value to get accumulated, then you should consider permanent life insurance.
Key Features of Term Insurance & Permanent Insurance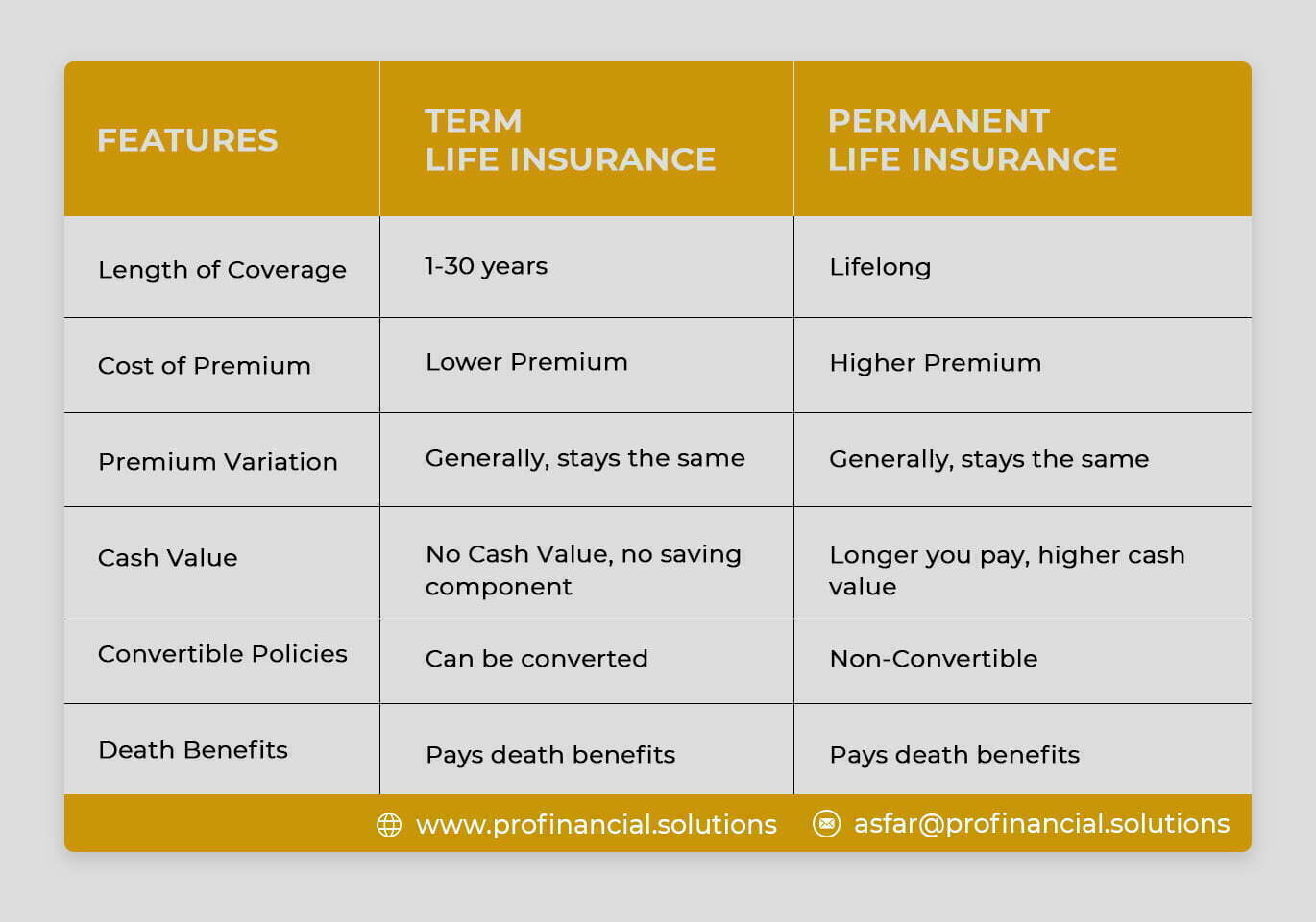 Term Insurance Vs Permanent Insurance
Different people have different insurance needs. Term life insurance is a popular choice because of its lower premiums, but it usually expires well before the end of the policyholder's life.
While the idea is to have paid off most debt and other financial obligations by that time, while also accumulating sufficient savings to make a large amount of life insurance unnecessary, some people may find that they prefer ongoing coverage and savings opportunities. Therefore, they might want to go for a new permanent policy.
Due to this, many term life policies offer the option to convert to permanent policies later, without the need of taking medical exams or otherwise qualify again. This feature makes the conversion appealing for people with medical issues that could make a new policy excessively expensive or with chronic conditions which require ongoing expenses that could be drawn from the savings portion.
While the premiums for permanent life insurance are much more expensive than term policies, those who opt for such policies would have earned enough by that stage of life to afford them. With the added opportunity for savings, they can also use it as a tax-favourable investment vehicle to cover the needs of lifelong dependents.
A checklist can help you decide in choosing the right kind of insurance policy.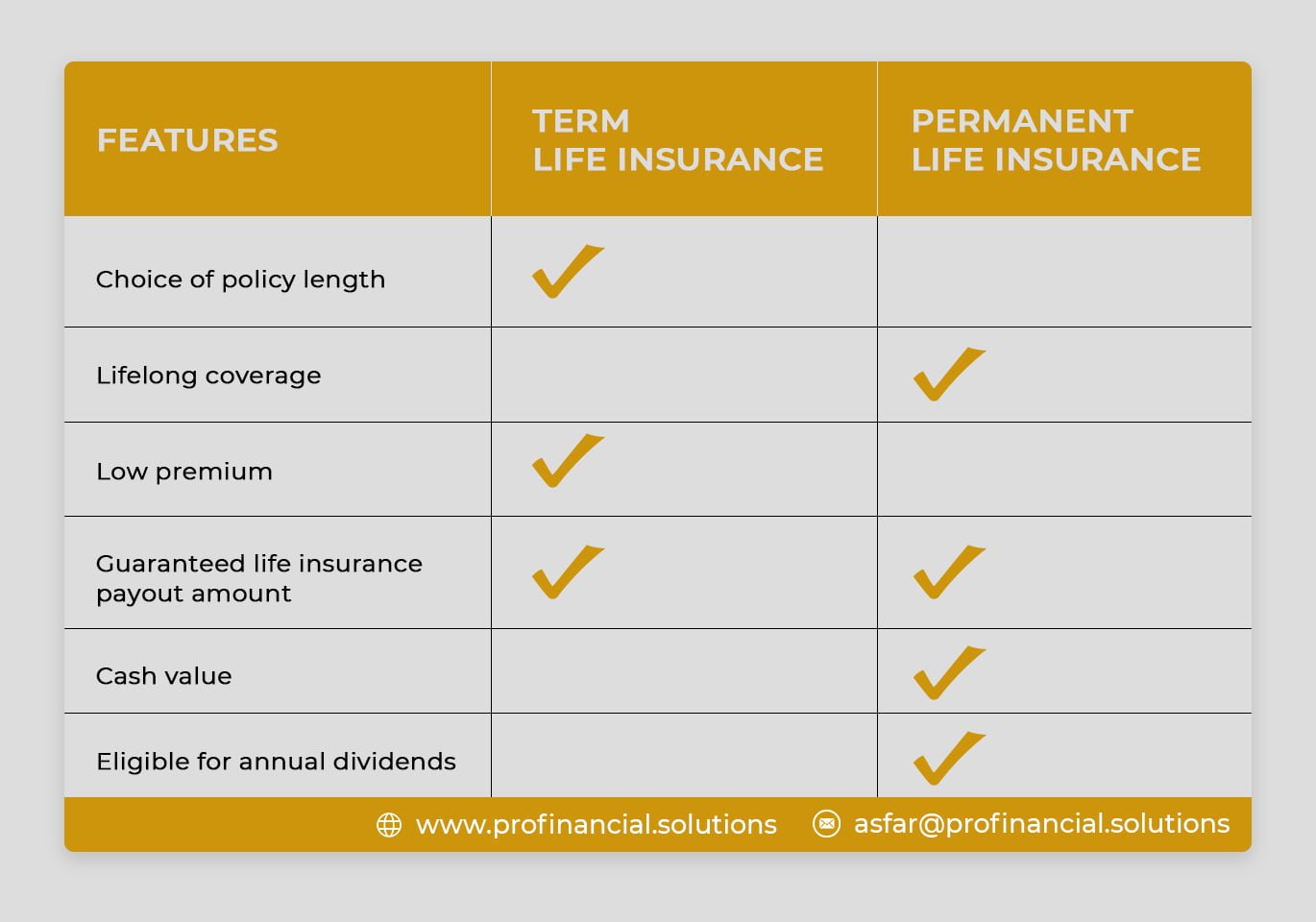 Choosing the Right Insurance Policy
Choosing an insurance policy needs consideration about yourself and your family. You must understand your and your family needs, the offerings, the benefits of life insurance and then make the crucial decision of buying the insurance that suits you the best.
If your main concern is affordability, term life insurance starts with the lowest monthly premium. But if you are looking for the best overall solution for you and your family, the best choice is a combination of both types of insurance. The key is finding a solution that matches your duration and insurance needs.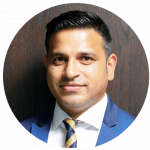 Asfar is an Independent Financial Advisor and Associate Partner with Continental Group based in Dubai, UAE with over 12 years of experience in the region. His clientele includes high networth individuals, corporations, C suite executives, business owners, and entrepreneurs in the region.
Although with proper planning and consistent effort, you can save, invest and distribute your own finances. It is always good to get some professional advice. If you need help in planning your finances in the short, medium, or long term, I can help you do so. You can write to me with your questions and comments to asfar@profinancial.solutions
Take the first step to a better financial life today. Fill out the form to request a call back if you are in Dubai or anywhere in UAE, GCC.