With an NRI (Non-Resident Indians) population of approximately 3.5 million, the UAE is one of the top destination countries for Indian migrants. NRI Investors are among the biggest investors here.
NRIs who plan their financial futures are often faced with a difficult question, should they invest in dollar-denominated investments or send money back home to India? Many Indians prefer to invest towards their ancestral homeland and make some "local" Indian investments, particularly in property, life insurance, or Fixed Deposits, which makes it a difficult decision.
One of the major challenges with local investments in India is that the Indian rupee (INR) keeps fluctuating significantly. In recent years, INR has shown a continual downward trajectory and has lost approximately 41% of its value against the dollar since its height in 2011, for an average depreciation of more than 5% every year. Given the reason, it is sensible to diversify into a dollar-denominated global investment strategy.
Diversification protects NRI investing, because if one investment loses money, either through depreciation, market conditions or stock market fluctuations, that loss can be minimized by the performance of other investments. There are several advantages to dollar denominated NRI investing that makes them a worthwhile addition to a well-diversified portfolio.
Benefits of Choosing Dollar Denominated Investment Options
Dollar-denominated investments are a stable hedge against the depreciation of INR value. For instance, if you had purchased an insurance plan in 2011 for Rs. 1 crore, when INR had an exchange rate of Rs.44.2 to one U.S. dollar, your insured amount would have been equivalent to US$226,244 in 2011. However, the current value of that plan would be just US$137,059, which is a depreciation of nearly 36%. So, if you had purchased a U.S.-dollar denominated policy in 2007 for US$226,244, its current value in INR would be Rs.16,507,033.
Dollar-denominated insurance and investment products are easily transportable anywhere in the world. Most of the insurance plans offered in the UAE are based offshore and continue to cover the NRI Investor during foreign travel or even after permanent international relocation. This reduces costs as NRI investors can retain the same investments throughout their lifetimes, without the need for currency conversion or the purchase of a new product upon relocation to a different country. Additionally, these investment products are shielded from the restrictions that might be imposed by Sharia law and the non-traditional requirements necessitated by the rules of Islamic finance.
Dollar-denominated investments have been stable in present times of regulatory uncertainty. The financial crisis of 2007–2008 led to an increasingly complex global regulatory landscape. While there has been a push for deregulation, many investors have looked with scepticism upon NRI Investing products denominated in fluctuating currencies in emerging markets, thinking such investments may prove unstable and lead to further crises. However, the U.S. dollar has never been devalued. This is why the dollar is the unofficial global currency, and comprises more than 60% of all known central bank foreign exchange reserves worldwide.
Best Investment Options in UAE for NRI Investors
National Bonds: Considering the safety, liquidity and a slightly better return on investment, investing in national Bonds is a good option. National Bonds can be bought online, from Money exchanges and banks. Minimum investment in National bonds is AED 100, but it is always advisable to hold a minimum for AED 3000 to avoid monthly charges.
E-Saver Accounts/Fixed Deposits in UAE: Many banks in UAE like EmiratesNBD, HSBC, Mashreq and ADCB offer E-saver accounts & Fixed Deposits. These accounts offer higher interest rates than your savings account. Given the rising interest rates environment, E-saver accounts/FD's are a good choice, as they provide both returns and liquidity.
FCNR Deposits: FCNR (Foreign Currency Non-Repatriable) are fixed deposits accounts in US Dollar and are one of the best NRI Investment Options. Based on the travel and immigration needs, you can save in these accounts from a period ranging from 1 – 5 years.
Gold: NRI Investors can invest in Gold in the form of coins or Bars, Certificates, ETFs and Funds. While global equity valuations are high, Gold is a safe haven, while other asset classes are going down in value. Additionally, there is no VAT on 24 carat gold bars, so it can be a good idea to invest in gold.
Open Architecture Investment Platforms: On this platform, NRIs investors can invest in equities and bonds of major exchanges like London, New York, NASDAQ Borse/Frankfurt, Euronext, HongKong and Tokyo. It gives you a wide choice of asset classes to invest and there are no surrender penalties or lock in periods. They are pay-as-you-go accounts with the flexibility of both liquidity and growth.
Can NRIs Invest in Direct Mutual Funds?
Many NRIs want to participate and benefit from the growth opportunities in India by investing in Mutual funds, but in this case, the currency depreciation can be a big deterrent. However, investing in Mutual Funds in US Dollar Denomination can help mitigate currency risk, as well as achieve good growth on the investment. These investments can be made both on lump-sum investments or regular monthly investments of USD 1,000 and above.
Once an NRI opens a dedicated bank account in India (NRE or NRO), he can directly liaise with the mutual funds to invest through the direct plans. In a direct plan, the benefit of advisory services for fund selection and fund monitoring is not available. However, the NRI can consult an investment advisor and pay the requisite fees directly to them.
Difference Between the NRI Accounts
There are 3 types of accounts available to NRI Investors in India, NRE (Non-Resident External Account), NRO (Non-Resident Ordinary Account), and FCNR (Foreign Currency Non-Resident). The fundamental differences among these types of accounts are illustrated below.
Can NRIs Invest in PPF?
The Public Provident Fund (PPF) is a popular long-term saving scheme from the Government of India, which provides safe and guaranteed returns and is one of the most tax-friendly NRI investment options. However, as per the new rules, you cannot open a new PPF account and invest in it. But if you already have a PPF account, before you became an NRI, then you can continue to hold it till the scheme's maturity. Additionally, you cannot extend the account beyond maturity which is 15 years and interest rates will be reviewed by the Government of India every quarter and can be changed. If you choose to continue the account, the rate of interest accrued will be reduced to the rate applicable to the Post Office Saving Account (currently 4% per annum).
Best Investment Options for NRIs in India
Bank Fixed Deposits: Investing in bank fixed deposits is one of the safest and most popular investment options. These ensure guaranteed returns that are not affected by market fluctuations. You can invest in bank fixed deposits with your NRE or NRO account and earn a high fixed rate of return.
Direct Equity: Direct equity investment that is, investing in the Indian stock markets is a great NRI Investment option. This can be done easily under the Portfolio Investment Scheme (PIS) of the Reserve Bank of India (RBI). Under this scheme, you must open an NRE or NRO account with an Indian bank that is authorized by the RBI, as your aggregate investment cannot exceed 10% of the paid-up capital in an Indian company and the PIS account helps RBI ensure that this limit is maintained. Also, NRI investors need to open a trading account with a registered broker and a Demat account that holds the shares in an electronic form to trade in stocks on the National Stock Exchange (NSE) of India.
Bonds and Non-Convertible Debentures: NRIs can always explore opportunities in the financial market through bonds and debentures. A bond is a unit of corporate debt issued by a company and is referred to as a fixed-income instrument. It pays a fixed interest rate to debt-holders. Bond prices are inversely correlated with interest rates and have specific maturity dates for repayment of the principal amount. Three main types of bonds include Non-Convertible Debentures (NCD), Public Sector Undertaking Bonds (PSUs) and Perpetual Bonds.
Government Securities: The RBI has recently allowed NRIs to invest in specified Government of India dated securities without any quantitative limit. NRI investors get permitted to invest in Government securities under the debt regulations, which makes them eligible to invest under the FAR, as well. Different types of dated government securities that can be opted for long-term investment strategies include Fixed-rate government bonds, Floating rate government bonds and Capital Index Bonds (CPI bonds).
National Pension Scheme: If you want to plan for your retirement and are looking for a long-term investment with equity exposure along with pension benefits, NPS is a good option. In NPS, you get various choices like equity investment, government securities, and other fixed-income instruments. But you can invest in NPS only if you are an Indian citizen. Moreover, when investing in NPS, the savings get locked in, and you get a lump sum amount only after retiring while the rest gets used for a pension. So, you can always consult an investment advisor before investing in NPS.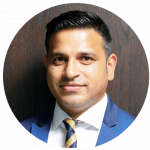 Asfar is an Independent Financial Advisor and Associate Partner with Continental Group based in Dubai, UAE with over 12 years of experience in the region. His clientele includes high networth individuals, corporations, C suite executives, business owners, and entrepreneurs in the region.
Although with proper planning and consistent effort, you can save, invest and distribute your own finances. It is always good to get some professional advice. If you need help in planning your finances in the short, medium, or long term, I can help you do so. You can write to me with your questions and comments to asfar@profinancial.solutions
Take the first step to a better financial life today. Fill out the form to request a call back if you are in Dubai or anywhere in UAE, GCC.